eBay Listings Search Results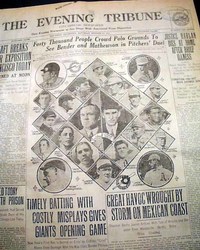 (5) WORLD SERIES New York Giants vs. Philadelphia Athletics A's 1911 Newspapers
eBay Fixed Price Item # 373320346658
Offered is an original, historic, & collectible old newspaper: THE EVENING TRIBUNE, San Diego, California, Oct. 14 -26, 1911  * Philadelphia Athletics vs. New York Giants * World Series of baseball - all 5 games * Christy Mathewson & Chief Bender fame A nice set reporting all five games of the Series with front page accounts (and some inside as well) of each game. The Oct. 14 issue has a terrific graphic headed: "40,000 People Crowd Polo Grounds To See Bender & Mathewson in Pitchers' Duel" with player photos for both teams. The issue of the 26th reports the final game results: "ATHLETICS MAKE BURLESQUE OUT OF GAME WITH NEW YORK GIANTS AND RETAIN THE CHAMPIONSHIP" and: "FINAL SCORE 13 TO 2; BENDER IN FINE FORM". Page 2 also features a terrific graphic showing photos of the he...
See More
Buy Now on eBay
Ends December 05, 2020 15:10
$128.00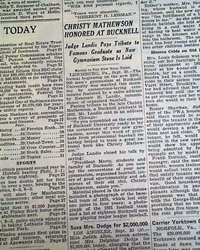 CHRISTY MATHEWSON Giants Pitcher Honored at Bucknell University 1937 Newspaper
eBay Fixed Price Item # 372332257679
Shown is an original & historic old newspaper, offered to enhance your collectible interest: THE NEW YORK TIMES, October 1, 1937 * Christy Mathewson honored * Bucknell University - Lewisburg * Davis Gym cornerstone laid Page 23 has a one column heading: "Christy Mathewson Honored At Bucknell" with subhead. (see) Other news, sports and advertisements of the day. Complete with all 46 pages, rag edition, minor creasing, some spine residue from disbinding, otherwise very ice.
Buy Now on eBay
Ends November 08, 2018 14:32
$37.00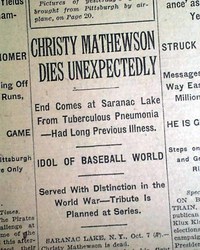 CHRISTY MATHEWSON "Matty" New York Giants Baseball Pitcher DEATH 1925 Newspaper
eBay Fixed Price Item # 391927353102
Shown is an original & historic old newspaper, offered to enhance your collectible interest: NEW YORK TIMES, Oct. 8, 1925 * Christy Mathewson death (1st report) * New York Giants pitcher * MLB baseball Near the top of the front page are one column heads announcing that: "CHRISTY MATHEWSON DIES UNEXPECTEDLY" "End Comes at Saranac Lake From Tuberculous Pneumonia--Had Long Previous Illness" "Idol Of Baseball World" "Served With Distinction in thee World War--Tribute Is Planned at Series". The article carries over to an inside page where is included a photo of him. Always nice to have notable events in history reported in this World famous publication. Also lengthy reporting on game 1 of the 1925 World Series starting on the front page ans carrying over into the sport's section. Loads...
See More
Buy Now on eBay
Ends December 15, 2017 14:35
$72.00