eBay Listings Search Results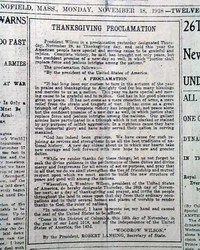 Spanish Flu - President's Thanksgiving Proclamation - Original 1918 Newspaper
eBay Fixed Price Item # 373467022272
Offered is an original, historic, & collectible old newspaper: SPRINGFIELD REPUBLICAN, Mass., November 18, 1918 * Thanksgiving Proclamation by Woodrow Wilson * Death-count from the Spanish Flu continues to rise The top of the front page has 2 column heading: "THANKSGIVING PROCLAMATION"  and an article titled: "TOLL OF THE EPIDEMIC - GREATER THAN IN WAR", dealing with the Spanish Flu. Nice to see the encouragement to be thankful amidst the ravages of both World War I and the Spanish Flu epidemic. Complete with all 12 pages,  small library label in the masthead, 1/4 inch loss in right margin only effecting non-described content.  For the era this issue is in generally good condition.
Buy Now on eBay
Ends March 19, 2021 09:27
$68.00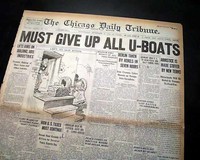 Great WORLD WAR I ENDS First Armistice at Compeigne Forest Sign 1918 Newspaper
eBay Fixed Price Item # 392892782653
Offered is an original, historic, & collectible old newspaper: THE CHICAGO DAILY TRIBUNE, Nov. 13, 1918 * re. First Armistice at Compeigne * World War I fighting ends The nice banner headline announces: "MUST GIVE UP ALL U-BOATS" with subheads. Great for display. Always nice to have notable events in history reported in this World famous publication. Complete with 22 pages, light toning and a little wear at the margins and central fold, should be handled with care.
Buy Now on eBay
Ends August 31, 2020 14:33
$57.00