eBay Listings Search Results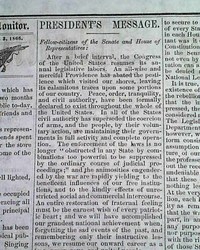 President ANDREW JOHNSON State of the Union Annual Address 1865 Newspaper
eBay Fixed Price Item # 373502471577
Offered is an original, historic, & collectible old newspaper: CONCORD DAILY MONITOR, New Hampshire, Dec. 3, 1866  * Andrew Johnson State of the Union Address * Post Civil War reconstruction era All of page 2 and half of page 3 are taken up with the: "PRESIDENT'S MESSAGE" being the annual state-of-the-union address by the President, a tradition which begins with Washington & continues to this day. It is signed in type at its conclusion: Andrew Johnson. This is a same-day report. In the lengthy address the President reviews the events of the year including a focus on the reconstruction efforts following the Civil War. Four pages, nice condition.
Buy Now on eBay
Ends April 17, 2021 15:08
$31.00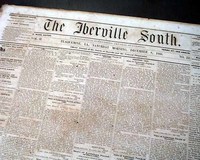 Very Rare PLAQUEMINE Iberville Parish Louisiana Baton Rouge LA 1866 Newspaper
eBay Fixed Price Item # 392968986227
Offered is an original, historic, & collectible old newspaper: THE WEEKLY IBERVILLE SOUTH, Plaquemine, Louisiana, Dec. 8, 1866  * Rare publication from the deep South Uncommon newspaper from this town just south of Baton Rouge and from shortly after the end of the Civil War. "Union List of Newspapers" notes just 4 institutions having any holdings of this title, and none have issues of this early date. This is a bi-lingual newspaper, as the front leaf is entirely in English, and the back leaf, with its own masthead: "Le Sud d'Iberville", is mostly in French. Four pages in total, large folio size, good condition. Folder size noted is for the issue folded in half.
Buy Now on eBay
Ends November 05, 2020 07:40
$82.00