eBay Listings Search Results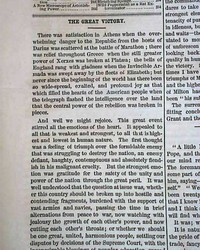 SURRENDER OF LEE'S ARMY at Appomattox Court House 1865 Civil War ENDS Newspaper
eBay Fixed Price Item # 392762542356
Offered is an original, historic, & collectible old newspaper: SCIENTIFIC AMERICAN, New York, April 15, 1865 * General Robert E. Lee surrenders * Battle of Appomattox Court House An inside page has over a full column taken up with a report headed: "THE GREAT VICTORY" which is an editorialized report concerning the surrender of General Robert E. Lee to General U.S. Grant at Appomattox. The report concludes with: "The surrender of Lee, with his whole army, is a fitting conclusion of the masterly generalship of Grant and the splendid fighting of his noble army." Interesting to find this report in a scientific journal, but it reflects the great significance of this event that it would be reported in this title. Sixteen pages, a few archival mends at edges, good condition.
Buy Now on eBay
Ends May 14, 2020 14:29
$57.00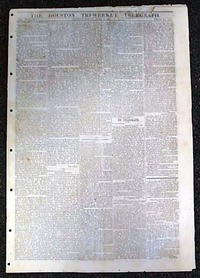 Very Rare CONFEDERATE Houston TX Texas w/ Civil War ENDING Close 1865 Newspaper
eBay Fixed Price Item # 392319419717
Offered is an original, historic, & collectible old newspaper: THE HOUSTON TRI-WEEKLY TELEGRAPH, April 10, 1865 * Very rare issue from the Southwest Confederacy Newspapers from Texas are very uncommon, particularly from before or during the Civil War period. Here is an issue from two days after Lee surrendered to Grant at Appomattox Court House, Virginia, containing three dispatches about the Union assault on Fort Steadman, each signed in type: U.S. Grant. Pg. 3 has Andrew Johnson's inaugural speech given before the Senate. The back page has "General Order, No. 15" which discusses the "...vicious habit of buying, selling and transferring furloughs...", signed in type: J. B. Magruder. Also a list of the battles in which the 1st, 4th and 5th Texas Regiments participated. Other minor wa...
See More
Buy Now on eBay
Ends July 24, 2019 15:37
$565.00
Best RICHMOND Virginia FALLS Heraldic Eagle Print 1865 Civil War End Newspaper
eBay Fixed Price Item # 372648919552
Offered is an original, historic, & collectible old newspaper: NEW-YORK TRIBUNE, April 4, 1865 * The fall of Richmond, the Confederate capital * Terrific heraldic eagle & map for display See the photos for this terrific and extremely graphic issue reporting the capture of Richmond, which essentially meant the end of the Confederacy. Lee would surrender to Grant at Appomattox just 5 days later. The first column heads read: "VIRGINIA ! " "Richmond and Petersburg Taken ! " "Colored Troops the First to Enter the Slaveholders Capital" "Gen. Grant Attempting to Cut Off Lees Escape" "A Portion Of Richmond On Fire ! " "The Citizens Welcome the Union Troops" "Details of the Late Battles from Our Correspondents" "The Enthusiasm Of The North". Note the beautiful engraving of the larg...
See More
Buy Now on eBay
Ends May 09, 2019 13:50
$775.00