eBay Listings Search Results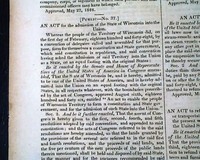 WISCONSIN STATEHOOD Admitted 30th State Joins Union 1848 Washington DC Newspaper
eBay Fixed Price Item # 373261989716
Offered is an original, historic, & collectible old newspaper: NATIONAL INTELLIGENCER, Washington, D.C., June 29, 1848  * Wisconsin gains statehood The back page has: "An Act for the admission of the State of Wisconsin into the Union" which takes over half a column of text (see for portions). At the bottom it notes the Act was "Approved, May 29, 1848" which is the recorded date of Wisconsin joining the Union. Great to have this official report in this Washington, D.C. newspaper, the mouthpiece of the federal government.  Four pages, great condition.
Buy Now on eBay
Ends November 08, 2020 14:28
$79.00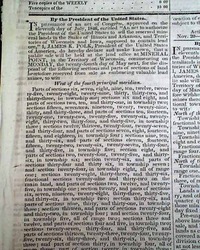 WESTERN EXPANSION Midwest Land Sale & Mexican War 1847 Washington D.C. Newspaper
eBay Fixed Price Item # 372117310387
Shown is an original & historic old newspaper, offered to enhance your collectible interest: THE DAILY UNION, Washington, D.C., Feb. 19, 1847 * Western expansion * Mexican War The top of the ftpg. has a document: "By the President of the United States" concerning the sale of land in the Iowa Territory, plus another very similar for the sale of land in Arkansas, and yet another for the sale of land in Wisconsin (see). Pg. 3 has various items concerning the Mexican War: "The Three Million Bill" "The Wilmot Proviso" "Very Interesting from Mexico--Latest" "Important from Mexico, via Havana". Four pages, nice condition.
Buy Now on eBay
Ends November 25, 2017 13:39
$33.00