eBay Listings Search Results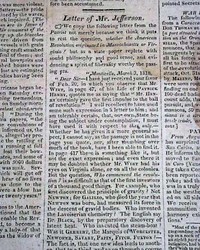 ILLINOIS TERRITORY James Madison Signs STATEHOOD Joins the Union 1818 Newspaper
eBay Fixed Price Item # 373105949773
Offered is an original, historic, & collectible old newspaper: COLUMBIAN CENTINEL, Boston, Dec. 12, 1818 * Illinois statehood The front page has a rather inconspicuous report headed: Journal of 15th Congress" noting in part: "...Messrs. Hunter of R.I. and Edwards and Thomas took their seats this day. The two latter represent the new State of Illinois, the law to admit which into the Union has been signed by the President...The Union is now composed of Twenty-one States...". Edwards and Thomas were the first two Senators from the new state of Illinois. The ftpg. also has a lengthy: "Letter of Mr. Jefferson" datelined from Monticello & signed in type: Th. Jefferson. Four pages, some damp staining, good condition.
Buy Now on eBay
Ends August 06, 2020 07:56
$57.00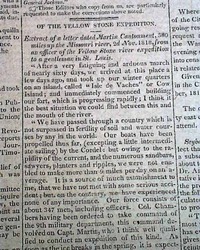 YELLOWSTONE EXPEDITION Frontier Missouri River Western Expansion 1818 Newspaper
eBay Fixed Price Item # 391561439177
Shown is an original & historic old newspaper, offered to enhance your collectible interest: NATIONAL INTELLIGENCER, Washington, D.C., Dec. 29, 1818 The middle of the front page has an interesting article: "Of The Yellow Stone Expedition" "Extract of a Letter dated Martin Cantonment, 380 Miles up the Missouri River...from an Officer of the Yellow Stone River Expedition to a Gentleman in St. Louis". The letter has some fascinating first-hand reporting on this early expedition to the West. See this hyperlink for more on this expedition. Four pages, some margin wear & a bit irregular at the right margin, scattered foxing.
Buy Now on eBay
Ends October 14, 2016 15:16
$39.00