eBay Listings Search Results
Rare 17th Century PARIS FRANCE in French Language 1641 Newsbook Newspaper
eBay Fixed Price Item # 392839187171
Offered is an original, historic, & collectible old newspaper: ARREST NOTABLE DU GRAND CONSEIL, Paris, France, May 17, 1641 (date at bottom of back page). * Rare 17th century publication This is a "supplement" issue which was produced for a specific news report, in this case (translated): "Notable End of the Big Council." Totally in French. Complete in 16 pages, 6 1/4 by 9 inches, wide margins, great condition.
Buy Now on eBay
Ends July 15, 2020 07:26
$82.00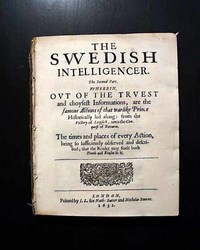 Very Rare SWEDISH INTELLIGENCER Publisher Nathaniel Butter 1632 London NEWSBOOK
eBay Fixed Price Item # 392302409316
Offered is an original, historic, & collectible old newspaper: THE SWEDISH INTELLIGENCER, "The Second Part", London, 1632 * Very rare 17th century periodical * Publisher Nathaniel Butter A quite rare newsbook by the famed publishing team of Nathaniel Butter and Nicholas Bourne who are credited with being the founders of the English language periodical format, taken from like-publishers in Germany & Amsterdam. Curiously some of the first English language periodicals were printed in Amsterdam. This title, item #847 in Crane & Kaye's "Census Of Newspapers 1620-1800", is among the earliest printed in England, 1621 being credited as the earliest. Records show there were six different issues of "The Swedish Intelligencer" printed from 1632 to 1635. This is the "second part", or issue ...
See More
Buy Now on eBay
Ends June 23, 2019 14:32
$4,450.00