eBay Listings Search Results
Rare 18th Century GLOUCESTERSHIRE England w/ Nice Masthead & Stamp1766 Newspaper
eBay Fixed Price Item # 393153190341
Offered is an original, historic, & collectible old newspaper: THE GLOCESTER JOURNAL, England, Nov. 3, 1766  Page 2 is mostly taken up with news reports headed: "America" with datelines from Martinique and New York, the latter having details concerning a trial. Four pages, handsome masthead, red tax stamp on the front page, very nice condition.
Buy Now on eBay
Ends March 24, 2021 08:32
$28.00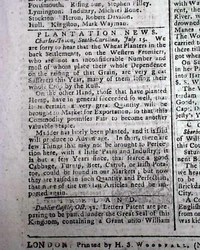 Early SOUTH CAROLINA AGRICULTURE Charleston Plantations 1766 London UK Newspaper
eBay Fixed Price Item # 371604022457
Shown is an original & historic old newspaper, offered to enhance your collectible interest: THE PUBLIC ADVERTISER, London, Nov. 8, 1766 * Early South Carolina The back page has: "Plantation News" with a Charleston dateline, reporting on the bad grain crop in South Carolina, but noting that: "...those that have planted hemp have in general succeeded so well that it is certain a very great quantity will be brought to market for exportation..." with more. Four pages, untrimmed margins, red tax stamp on pg. 3, very nice condition.
Buy Now on eBay
Ends May 18, 2016 15:47
$29.00