eBay Listings Search Results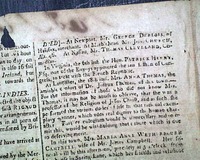 American Patriot PATRICK HENRY DEATH 1799 Boston Massachusetts Newspaper
eBay Fixed Price Item # 373678458559
Offered is an original, historic, & collectible old newspaper: COLUMBIAN CENTINEL, Boston, June 26, 1799  * Patrick Henry's death  * 18th century original  On page 2 under "Died" is an inconspicuous obituary that reads, in full: "In Virginia, the 6th inst. the Hon. PATRICK HENRY, Esq. one of the Envoys appointed the last Session of Congress, to treat with the French Republic". The back page has the lyrics of a "Song, For The 4th of July, 1799. To the tune of the 'Vicar of Bray.'" Four  pages, a little light foxing, minor spine wear, nice condition.
Buy Now on eBay
Ends September 10, 2021 07:55
$165.00
Rare GEORGE WASHINGTON & Battle of Bunker Hill Revolutionary War 1775 Newspaper
eBay Fixed Price Item # 392729059937
Offered is an original, historic, & collectible old newspaper: THE VIRGINIA GAZETTE, Williamsburg, July 7, 1775 * Battle of Bunker Hill - Siege of Boston * George Washington becomes Commander-in-Chief * Very rare American Revolutionary War era publication This newspaper was published by Alexander Purdie, a distinction to be made since there were three newspapers of this title printed in Williamsburg during the early period of the Revolutionary War. A very rare opportunity for a scarce title from colonial Virginia, as any experienced collector is aware. Simply a terrific issue, containing reports on the historic Battle of Bunker Hill, Washington being named commander--in-chief of the Continental Army, and much more. The notable reports are on page 2, one datelined "Norwich, J...
See More
Buy Now on eBay
Ends April 16, 2020 11:56
$10,000.00