eBay Listings Search Results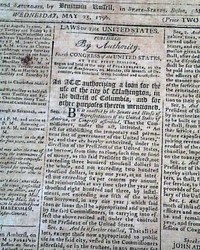 GEORGE WASHINGTON John Adams ACT & Paul Revere Church Bells 1796 Old Newspaper
eBay Fixed Price Item # 373649382229
Offered is an original, historic, & collectible old newspaper: COLUMBIAN CENTINEL, Boston, May 25, 1796  * President George Washington * Paul Revere - bell foundry The front page features two Acts of Congress, each signed in script type by the President: Go. Washington, and in block type by the Vice Pres: John Adams. One Act is for providing a loan to the city of Washington. The top of the back page has an ad for "Church Bells" by Paul Revere, with various details. Four pages, irregular at the lower portion of the right margin affects some ads, otherwise good.
Buy Now on eBay
Ends August 14, 2021 09:55
$97.00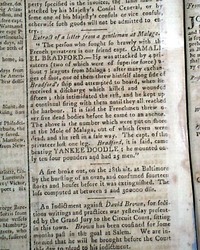 GAY HEAD LIGHTHOUSE Planned Construction Martha'a Vineyard 1799 Boston Newspaper
eBay Fixed Price Item # 392112507753
Shown is an original & historic old newspaper, offered to enhance your collectible interest: J. RUSSELL'S GAZETTE, Boston, June 6, 1799 * Gay Head Lighthouse * Martha's Vineyard Page 2 has a report of a naval battle noting in part: "...the capt. of the privateer lost one leg. Bradford, it is said, came beating YANKEE DOODLE; he mounted only ten four pounders and had 25 men." But the most notable content is the full column on page 4 which has: "Plan of a Light House to be Erected at Gayhead, on the Island of Martha's Vineyard...". This is a very historic lighthouse, still standing, and the text is extremely specific on how it is to be build, which corresponds with the information on Wikipedia (see). Also of interest is a brief item at the bottom of pg. 3 which lists the "Board of ...
See More
Buy Now on eBay
Ends September 27, 2018 15:33
$67.00