Home
> Letters between General Howe & Ben Franklin...
Click image to enlarge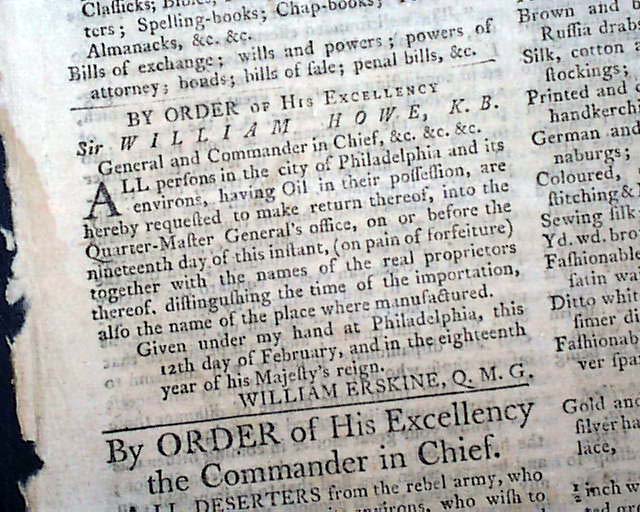 Show image list »
Letters between General Howe & Ben Franklin...
Item # 661839
February 18, 1778
THE PENNSYLVANIA LEDGER OR THE WEEKLY ADVERTISER, Philadelphia, Feb. 18, 1778

* Revolutionary War Tory original
* Rare Pro British issue from America
* Benjamin Franklin & William Howe

This was a Tory newspaper published in Philadelphia when the British occupied the city. It began in 1775 and ended when the British evacuated the city in May of 1778. Not surprisingly, the masthead features an engraving of the Royal coat-of-arms.
The front page has an: "Order of His Excellency Sir William Howe....General and Commander in Chief" for the return of oil "...on pain of forfeiture...". This is followed by a great item headed: "By Order of His Excellency the Commander in Chief" which reads: "All Deserters from the rebel army who are in this city, or its environs, who wish to go to Europe, are to give in their names, and places of abode, immediately to the Town Major in order that a passage, free from expence, army be provided for them..." (see). The rest of the front page is taken up with ads.
Page 2 has a letter datelined "Lancaster" which includes: "...I shall conceive, if I meet with the disposition in the Colonies which I was once taught to expect the most flattering hopes of proving serviceable in the object of the king's paternal solicitude by promoting the establishment of lasting peace and union with the Colonies..." signed in type: Howe. This is followed by a terrific letter of response which takes over a full column signed in type: B. Franklin, datelined in Philadelphia, July 30, 1776. Portions include: "...It is impossible we should think of submission to a government that has, with the most wanton barbarity & cruelty, burnt our defenseless towns in the midst of winter, excited the savages to massacre our peaceful farmers & our slaves to murder their masters, and is even now sending sovereign mercenaries to deluge our country with blood..." and much more.
Page 3 includes a list of prisoners taken in, with their charges. Also mention that: "On the 15th...John Benner, a noted rebel, who has for some time past made it his practice to rob on the public high-way..." with more. Also: "On Sunday last about 400 rebels came down within about 600 yards of one of the pickets, and after making a terrible howling, fired upon the picket which was so successfully returned that it obliged them immediately to retreat leaving 3 of their men dead on the spot...". Also mention that: "...we learn that Charlestown [Charleston], the capital of South Carolina, lately took fire & is almost totally reduced to ashes."
Four pages, numeric notations in margins next to ads (this was the editor's copy), minor stain at the bottom, very nice condition.
Category: American