Home
> A very prophetic statement on freedom...
Click image to enlarge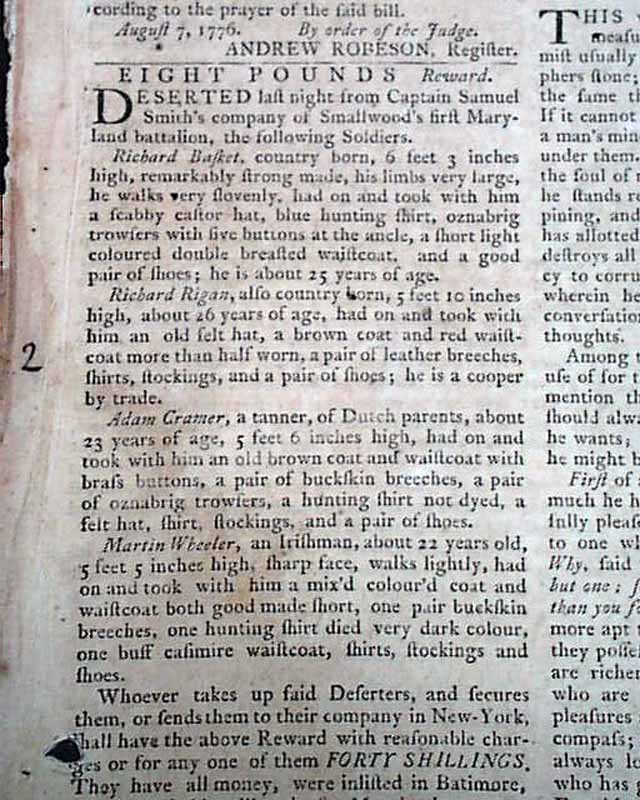 Show image list »
A very prophetic statement on freedom...
Item # 658744
August 17, 1776
THE PENNSYLVANIA LEDGER, Philadelphia, August 17, 1776 This was a decidedly Tory newspaper, supportive of the British efforts in America. This newspaper ended publication in June, 1778 when the British evacuated the city.
The front page has an: "Eight Pounds Reward" ad for the return of 4 soldiers who deserted their military service, with much detail (see). Page 2 has a lengthy deposition from Jarrett Williams concerning his involvement with the Overhill Cherokee Indians as they were preparing to go to war against Virginia (see). This is followed by a report of the Indian battle. A brief item from Hartford notes: "Last week a new batch of tories...arrived in town from the county of Albany. They are a motley mess!...". An item from New York notes: "Yesterday came in two deserters from the fleet, by whom we are informed that Lord Howe is preparing for an attack...the forces would land on Long Island while the shipping attack the city."
Page 2 contains a rousing speech of patriotism by the governor of Georgia to his legislature, noting in part: "...the people of this province, in opposing the designs of a cruel & corrupt ministry, have surmounted...insuperable difficulties...succeeded, & declared their resolutions to assert their liberties & to maintain them at all events in concurrence with the other associated colonies...I heartily approved the conduct of the Americans...".
Page 3 has a near address which has proven very prophetic: "Remember, in all your deliberations, you are engaged in a most arduous undertaking. Generations yet unborn may owe their freedom and happiness to your determinations & may bestow blessings or execrations on your memory." There is also a report concerning the military situation in New Jersey & New York, one letter noting: "Yesterday a number of men went to Long Island...and are this day to have a hearing at the city hall before his Excellency General Washington." War-related content continues on page 3 including a report of an Indian skirmish, and a note that: "The chiefs of the Six Nations met...at Onondago...call all their warriors from Canada & to listen to the Thirteen United States of America being convinced that their advice was for their true interest, as they have no business to join either side in the present war between Britain and America...".
The back page includes an ad for the reprinting of a pamphlet titled: "American Independence, the Interest & Glory of Great Britain, containing arguments which prove that not only in taxation but in trade manufactures & government the Colonies are entitled to an entire Independency..." with more (see).
Four pages, numeric notations in the margins of ads (this was the editor's copy), very nice condition.
Category: American