Click image to enlarge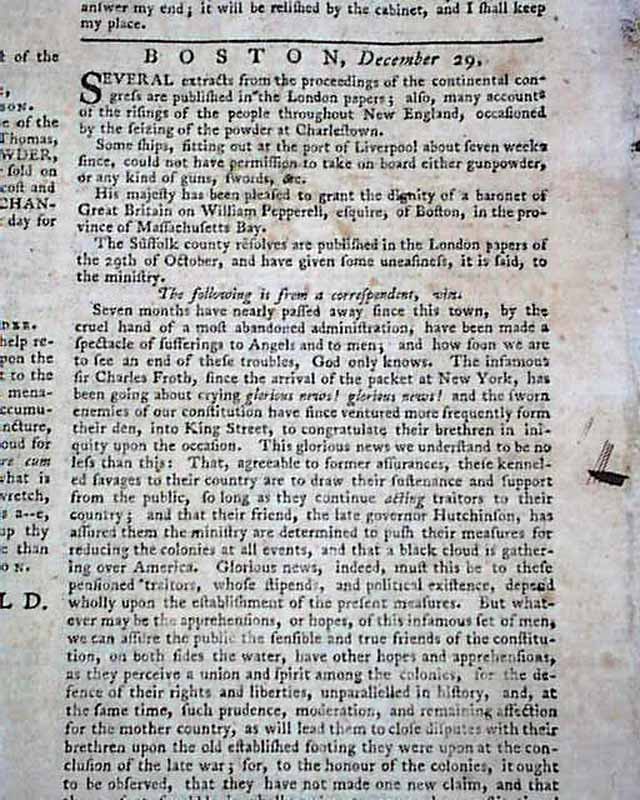 Show image list »
Troubles between the American colonies and England, in a Virginia newspaper...
Item # 655293
January 26, 1775
THE VIRGINIA GAZETTE, Williamsburg, January 26, 1775 This newspaper was published by John Pinkney, a distinction to be made since there were three newspapers of this title printed in Williamsburg during the early period of the Revolutionary War. Pinkney continued this title which just months prior was published by Virginia's first woman printer, Clementina Rind, noting in the masthead: "Printed by John Pinkney, For The Benefit Of Clementina Rind's Children." A very rare opportunity for a scarce title from colonial Virginia.
The front page begins with the: "Ministerial Plan Against America" the text beginning: "The American method of defeating the system of slavery prepared for this great continent..." and then details of: "The Plain".
The ftpg. also has: "Lord North's Soliloquy" which begins: "A plague take that Boston Port Act, and all the Bostonians; those obstinate people will be my downfall; those puritanical rascals will be my ruin. The public at home now perceive the drift & consequences of that act...the cry is strong against me; I shall be hunted down; I was afraid of that damn'd act at first; it was none of mine; I was not the father of it..." and much more great content.
And still on the ftpg. is a report that the Suffolk Resolves has been published in London papers: "...and have given some uneasiness, it is said, to the ministry."
There is then a great letter beginning: "Seven months have nearly passed away since this town, by the cruel hand of a most abandoned administration, have been made a spectacle of sufferings to Angels and to men; and how soon we are to see an end of these troubles God only knows..." and so much more.
Page 2 has a letter signed Virginiensis, which has: "...my most cordian thanks to your late correspondent for his wholesome prescription to this our sickly colony, and also with congratulating my countrymen on so happy an acquisition to the grand cause of America..." further on is: "...The situation of America has been hitherto alarming indeed. All friends have stood forth in her defence..." and much more fine content.
Pg. 2 also has a great review of a pamphlet titled: "A Friendly Address to All Reasonable Americans on the Subject of our Political Convulsions", addressed to the people of America. It states: "...The design of his pamphlet is manifestly to dissolve the spirit of union...The doctrines he aims to inculcate are as follow: that the parliament has a right to tax you without your consent; that the duty upon tea is no tax; that this duty is your only grievance; that the cause of Boston is their own concern...that the punishment of Boston is a just punishment...that the Bostonians are rebels, traitors,and pampered fanatics..." with much more of this.
Page 3 has: "A Proclamation" by the governor of Virginia, signed: Dunmore, concerning relations with the Indians. Pg. 3 also has a great graphic, structured much like a broadside, being: "A PROCLAMATION" by governor Dunmore for a postponement of the General Assembly. It features a nice engraving.
Four pages, untrimmed margins, various stray ink notations and blots, otherwise good condition.
Category: American