Click image to enlarge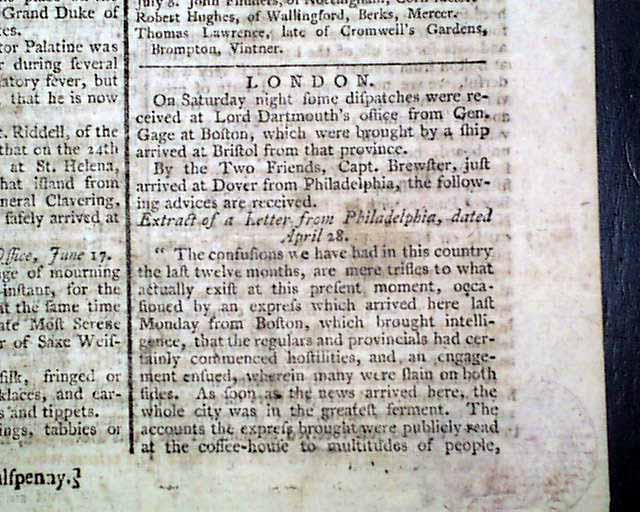 Show image list »
Lexington & Concord. Mention of minutemen, Adams & Hancock...
Item # 644850
June 20, 1775
THE LONDON CHRONICLE, England, June 20, 1775

* Battle of Lexington & Concord
* Revolutionary War beginning
* Rare mention of minutemen

The back page has a letter which describes the first shots of the Revolutionary War as the British marched from Boston towards Concord to destroy a colonial arms depot. Text includes: "...the late engagement between the King's troops and the provincials, a brigade of about 850 or 900 men marched from Boston on the night after the 18th of April..." Along the way the British encountered (in Lexington) about: "...30 or 40 minute men, as they were called...". There is some confusion as to who fired first, but as the letter suggests, it was most likely the British because: "...it is not probable that a small body of about 30 men would begin an engagement with 800 or 900....". After this first exchange the British continued marching to Concord: and "...executed their business, which was to destroy some stores of provision...". At Cambridge, however: "... they were attacked by a body of provincials and there was a smart fire from both sides, but the regulars retreated." The letter continues with several compelling observations including: "...I am pretty well convinced that the chief, if not only business of the brigade which first went out was to seize Adams & Hancock, and destroy the stores at Concord...". It also mentions that: "...Upon the whole this affair ended to the honour of the provincials..." and that "...The regulars most certainly never expected the Yankies, as they call them, would be so resolute..." (see). The entire text takes a full column.
As if this was not sufficient for one issue, the ftpg. has a letter from Phila. which mentions: "...arrived here last Monday from Boston...that the regulars & provincials had certainly commenced hostilities & an engagement ensued wherein many were slain on both sides...", presumable referring to Lexington & Concord. Pg. 2 continues with American news & mentions a hand bill dated April 28: "..was distributing about the city of Phila...All persons who have associated, or who intend to associate for military purposes, are requested to meet on Saturday afternoon...at the State house to form themselves into companies & take every other necessary measure for putting themselves into military array." This is followed by another letter noting: "...received the news here of a skirmish that had happened 3 days before betwixt the King's troops & the Americans at Lexington..." with more.
Page 6 has a column taken up with news from North Carolina & elsewhere concerning events relating to war preparations (see).
Eight pages, 8 1/2 by 11 inches, various foxing, more so to the ftpg., otherwise generally nice.
Category: Revolutionary War