Home
>
Back to Search Results
> Full volume with the first magazine printing of the Star Spangled Banner and 3 full page plates...
Click image to enlarge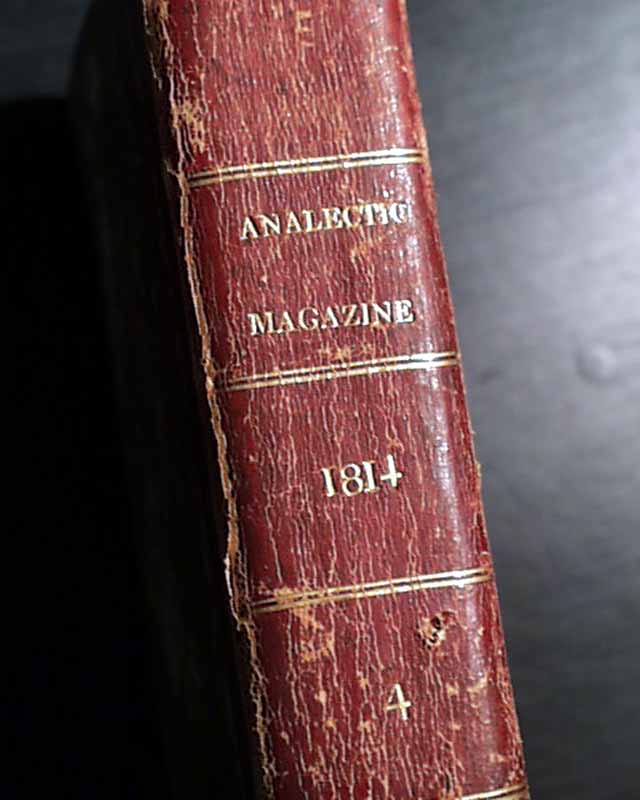 Show image list »
Full volume with the first magazine printing of the Star Spangled Banner and 3 full page plates...
Item # 642548
July 1, 1814
ANALECTIC MAGAZINE, Philadelphia, a complete found volumes with the six issues of July thru December, 1814 This was essentially a literary-themed magazine but contained a wide range other articles. The title page notes: "...Containing Selections from Foreign Review and Magazines, of such Articles as are Most Valuable, Curious, or Entertaining." This is volume IV.
Certainly the most notable content is in the November issue which contains the first appearance in a magazine of the Star Spangled Banner, at that time being a poem titled: "Defense of Fort McHenry" with the notation that the poem should be sung to the tune of "Anacreon in Heaven," an old English drinking song. There is a nice prefacing paragraph which notes the conditions under which it was written, including in part: "...A gentleman had left Baltimore in a flag of truce for the purpose of getting released from the British fleet a friend of his...he was compelled to witness the bombardment of Fort M'Henry...He watched the flag at the fort through the whole day with an anxiety...until the night prevented him from seeing it. In the night he watched the bomb shells, and at early dawn his eye was again greeted by the proudly-waving flag of his country." (see). What follows are all 4 stanzas of what would become the national anthem. Though the author is unidentified, he was Francis Scott Key.
The prefacing paragraph and all 4 stanzas take nearly 1 1/2 pages
Also within the November issue is a 16 page article: "Biographical Memoir of the Late Brigadier General Zebulon Montgomery Pike" which still includes the full page engraving of him (typically missing). A discrete archival mend to the blank reverse of this print.
Additionally, the August issue has a full page engraving of: "Joel Barlow, Esq." which accompanies a lengthy biography of him. And the December issue has a full page engraving of "Major Genl. Winfield Scott" with a biography of him (see).
The complete volume with 524 pages, marbled boards with red leather spine both showing mild wear, boards still tightly bound, gold ink at the spine with a typed "Star Spangled Banner" taped near the spine bottom. Interior pages have various foxing with the plates foxed as well (typical of the period), generally in nice condition. The decorative title page has the top half lacking.
Category: War of 1812