Click image to enlarge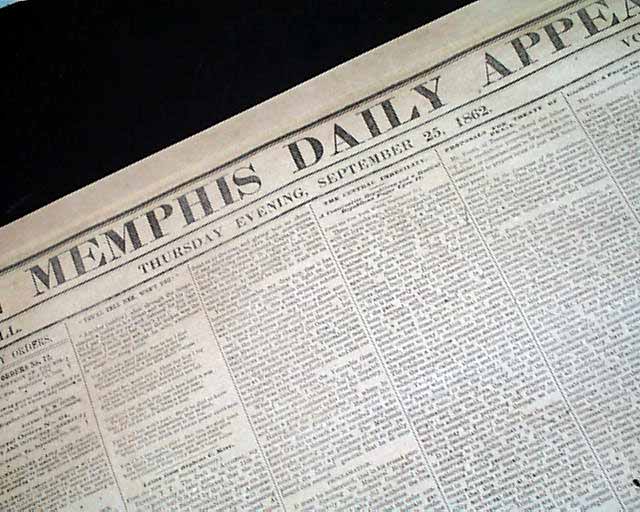 Show image list »
Details on the Battle of Antietam...
Item # 577925
September 25, 1862
THE MEMPHIS DAILY APPEAL, Grenada, Mississippi, Sept. 25, 1862

* Very rare Confederate title
* Publisher on the run
* Battle of Antietam

If the title and city of publication seem to be in conflict, they are not. This newspaper had a fascinating history during the Civil War. Memphis was a Confederate stronghold up through the Battle of Memphis on June 6, 1862, at which time the Yankees moved in and it became a Yankee city. Being a strong voice for the Confederacy, the "Memphis Appeal" newspaper would not continue under Yankee control. As Wikipedia notes: "...On June 6, 1862, the presses and plates were loaded into a boxcar and moved to Grenada, Mississippi, where it published for some time. The Appeal later journeyed to Jackson, Mississippi, Meridian, Mississippi, Atlanta, Georgia, and finally Montgomery, Alabama, where the plates were destroyed on April 6, 1865, only days before the Confederate surrender, halting publication of what had been one of the major papers serving the Southern cause." So this one newspaper published in six different Confederate cities during the Civil War.
The back page contains some nice, detailed accounts on the Battle of Antietam with: ""The Battle of Wednesday" "Further Particulars" "Casualties Among Our Generals" "The Battle on Saturday" "The Federals Repulsed in Attempting to Cross the Potomac" "Terrible Slaughter at Shephardstown" "Federal Estimate of the Result In Maryland--The Result Admitted Undecided" as well as: "The War In Maryland" "The Battle Of Wednesday" "Most Bloody Fight Of The War" "Great Loss of Federal Officers" "Thomas Francis Meagher Killed" and more. Over three columns of text are taken up with this battle's report.
The battle of Antietam was the bloodiest day's fighting of the entire war, both sides losing over 10,9000 men in killed & wounded. It is interesting that one of the headlines noted above admits the same. The result was essentially a draw, however the significance was Lee's invasion of the North was halted.
Other back page items include: "Fight at Ponchatoula" "The Washington Contrabands" "Kentucky & Tennessee" "From New Orleans" "Northern Items" "Yankee Lies Exposed" "Cumberland Gap Evacuated" "The Munfordsville Surrender" "Defeat of Burnside" "Northern Estimate of the Late Battle" and other smaller items.
Complete as a single sheet newspaper, lightly toned, very nice condition.
Category: Confederate