Click image to enlarge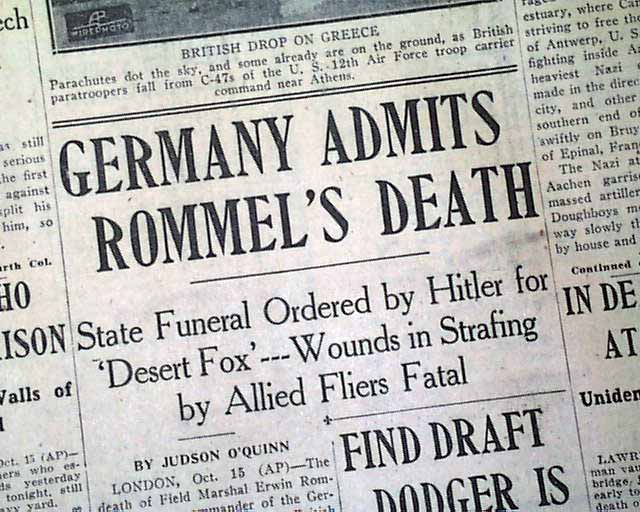 Show image list »
Erwin Rommel death...
Item # 571616
October 16, 1944
THE BOSTON POST, Massachusetts, October 16, 1944

* Erwin Rommel death
* The Desert Fox
* World War II field Marshall

This 14 page newspaper has two column headlines on the front page: "GERMANY ADMITS ROMMEL'S DEATH" "State Funeral Ordered by Hitler for 'Desert Fox'---Wounds in Strafing by Allied Fliers Fatal"

Tells of the death of famous Nazi Field Marshall Erwin Rommel.

Other news of the day throughout with much on World War II. Minor staining, otherwise in nice condition.

wikipedia notes: Unfortunately for Rommel, the "Court of Military Honour," a drumhead court-martial that was to decide whether or not to hand him over to Roland Freisler's People's Court included two men with whom Rommel had crossed swords before, Heinz Guderian and Gerd von Rundstedt. The Court decided that Rommel should be expelled from the Army in disgrace and brought before the People's Court, a kangaroo court that always decided in favour of the prosecution.

Hitler knew it would cause a major scandal if it came out that Rommel had been involved in the plot, given his popularity with the German people. He therefore decided that Rommel should have the choice of either committing suicide or having his expulsion from the Army formalized before being sent to People's Court.

Rommel was approached at his home by Wilhelm Burgdorf and Ernst Maisel, two generals from Hitler's headquarters, on 14 October 1944. Burgdorf offered him a choice from Field Marshal Keitel: he could face the People's Court or choose to commit suicide quietly. In the former case, his staff would have been arrested and his family would suffer. In the latter case, the government would assure his family full pension payments and a state funeral claiming he had died a hero. Burgdorf had brought a capsule of cyanide for the occasion. After a few minutes' thought alone, Rommel announced that he chose to end his own life and explained his decision to his wife and son. Carrying his field marshal's baton, Rommel went to Burgdorf's Opel, driven by SS Master Sergeant Heinrich Doose, and was driven out of the village. Doose walked away from the car leaving Rommel with Maisel. Five minutes later Burgdorf gestured to the two men to return to the car, and Doose noticed that Rommel was slumped over. Doose, while sobbing, replaced Rommel's fallen cap on his head. Ten minutes later the group phoned Rommel's wife to inform her that Rommel was dead.

But there also exists an alternate theory about the German Commander's death—that Rommel was given a choice to face the People's Court or to be shot by the German police. Rommel chose the latter because, as he explained to his wife and son, it would be better to die immediately with honour rather than die after facing national humiliation at the People's Court. He was then taken to a secret place in or around Berlin where he was shot by two Gestapo officials. He was then hailed as a national hero who died as a result of sustaining injuries.[nb 4]
Rommel's grave

After the war, an edited version of his diary was published as The Rommel Papers. He is the only member of the Third Reich establishment to have a museum dedicated to him. His grave can be found in Herrlingen, a short distance west of Ulm.

The official story of Rommel's death, as initially reported to the general public, stated that Rommel had either suffered a heart attack or succumbed to his injuries from the earlier strafing of his staff car. To further strengthen the story, Hitler ordered an official day of mourning in commemoration and Rommel was buried with full military honours. Hitler sent Field Marshal von Rundstedt as his representative at Rommel's funeral. Rommel had specified that no political paraphernalia were to be displayed on his corpse, but the Nazis made sure he was fully festooned with swastikas. The truth behind Rommel's death didn't come out until Keitel testified about it during the Nuremberg Trials.
Category: The 20th Century
Available Now
$57.00

Add to Cart