Click image to enlarge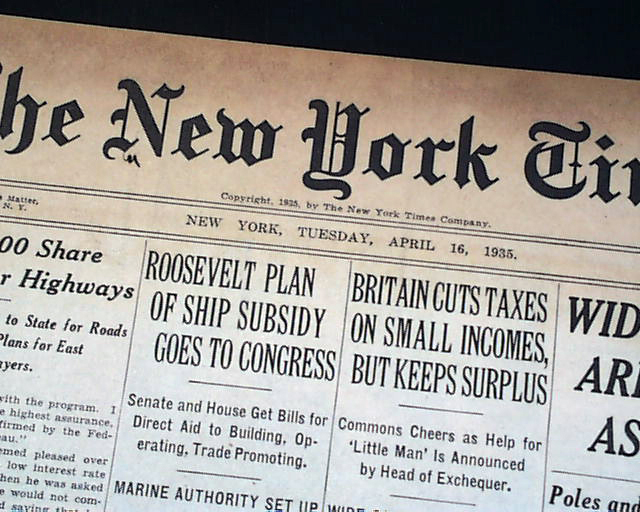 Show image list »
New York City gangster Dutch Schultz...
Item # 562036
April 16, 1935
THE NEW YORK TIMES, New York, April 16, 1935

* New York City gangster Dutch Schultz
* Tax evasion trial begins

This 46 page newspaper has one column headlines on the front page that include:

* 7 COUNTS DROPPED IN SCHULTZ'S TRIAL
* Federal Move Cuts Maximum Sentence Possible to 16 Years, $40,000 Fine
* Defense Delay Blocked
and more. Other news of the day. Great to have in this famous NYC title.

Light browning, otherwise in good coondition.

wikipedia notes: At the time of the Martin killing, Schultz was busy fighting a federal tax evasion case. In addition, U.S. Attorney Thomas Dewey had set his sights on convicting Schultz. Schultz's lawyers convinced the judge that their client couldn't get a fair trial in New York City, so the judge moved it to a small town in rural Upstate New York, Malone.[1]

Looking to influence potential jurors, Schultz presented himself to the town as a country squire and good citizen. He donated cash to local businesses, gave toys to sick children and performed other such charitable deeds. The strategy worked. In the late summer of 1935, to everyone's surprise, Schultz was acquitted of tax evasion.[1]

Following his acquittal in the second trial, the outraged Mayor of New York, Fiorello La Guardia, had issued an order that Schultz be arrested on sight should he return to New York. As a result Schultz was forced to relocate his base of operations across the Hudson River to Newark, New Jersey.

As the legal and related costs of fighting his tax indictment continued to mount, Schultz had found it necessary to cut the commissions of his runners and controllers in order to bolster the "Arthur Flegenheimer Defense Fund". He reduced pay from around 50 percent, down to 10 percent for the runners and 5 percent for the controllers. However, Schultz's poverty plea fell on universally deaf ears, even after his associates began making threats of violence if any serious resistance developed. The runners and controllers hired a hall and held a mass protest meeting and declared a strike of sorts. Suddenly fewer and fewer bets were being delivered to the banks, reducing the vast policy inflow to a mere trickle as the Schultz's street soldiers lost their zeal. Schultz was forced to back down and restore the status quo, but he had already permanently damaged his relationships with his underlings.

Bo Weinberg, concerned that the drain of money from Schultz rackets into his legal defense fund was going to ruin the business for everyone else, sought advice from New Jersey mobster Longy Zwillman, who in turn put him in contact with Charlie "Lucky" Luciano. Weinberg was hoping to make a deal whereby he would retain overall control and a percentage, but Luciano instead planned to divide the Schultz empire among his associates. All this was to come into effect in the event of the Dutchman being convicted.

Believing that Schultz would be convicted in the second trial, Luciano and his allies had implemented their plan to move in on his empire. Given the circumstances of his take-over of the policy racket, the bad feeling created by his attempted pay cuts, and the complicity of Weinberg, his number-one enforcer, the take-over would have met with little resistance. Schultz quickly sought a meeting with Charlie Luciano, his erstwhile colleague on the Commission, in order to 'clarify' the situation. Schultz even converted to Roman Catholicism to cozy up to Luciano.[1] Luciano placated Schultz with the explanation that they were just 'looking after the shop' while he was away, only to ensure that everything ran smoothly, and promised that control of his rackets would be returned.

In a weakened position and still under constant harassment from the authorities, Schultz was forced to accept Luciano's version of events. However, Luciano was well aware of Schultz's prior history and would have had no illusions about what the long-term scenario would be - that as soon as he felt able, Schultz would launch an all-out war to recover what he had lost and get revenge.[citation needed] As for Weinberg, he disappeared without a trace, and it was believed that Schultz had arranged that.
Category: The 20th Century