Click image to enlarge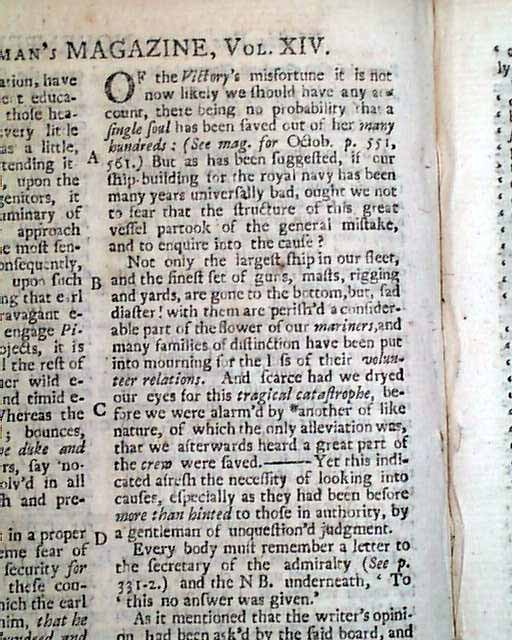 Show image list »
H.M.S. Victory lost at sea...
Item # 555532
THE GENTLEMAN'S MAGAZINE, London, November, 1744

* H.M.S. Victory has been lost... 255 years later it is found!



Certainly the most notable item in this issue is the report referencing the sinking of the British ship H.M.S. Victory. A report dated February 5, 2009 from the "Best Syndication News" service brings this event into the 21st century with its breaking news reading: "The HMS Victory ship sunk in stormy seas back in 1744 but it wasn't until this week, when an American company called Odyssey discovered what they call "the most significant shipwreck discovery in history." The HMS Victory was a warship that had a crew of around 1,100 that died when it went underwater. The estimated treasures with gold coins and artifacts could be worth potentially $1 billion. The Odyssey company is undergoing a legal battle to allow them to recover the treasures and artifacts. Because the HMS Victory is a military ship she is the property of the British government according to the laws of marine salvaging."
There are two reports in this issue concerning this ship's sinking, the first being a reference to it reading: "Reflections occasion'd by the loss of his majesty's ships of war, with Adm. V____non's Opinion on the late method of building them, etc. Of the Victory's misfortune it is not now likely we should have any account, there being no probability that a single soul has been saved out of her many hundreds..." and what follows is discussion on how to better build the military ships (see for portions). This report takes over a full page and includes several references to the "Victory", including: "The Boyne, the ship mentioned, was rebuilt in 1739, as the Victory was in 1737, both under the same direction..." and: "...make enquiry, by proper evidence, if there did not want room and strength of decks in the Victory and Colchester?..." (see).
The second report appears several pages later, telling of evidence of Victory being lost, headed: "Extract of a letter from Cherbourg on the Cost of Normandy relating to his majesty's ship the Victory." The report reads in part: "...near the isle of Auvigny, they saw a great many pieces of wreck, on which, one of their vessels trouch'd at the isle of Auvigny, and learned that a large ship, supposed to be English;, had made a few days before, several signals of distress, from whence they judged she might have struck against the rocks called the Caskets; that the terrible storm, which then blew, had prevented giving her any assistance..." and a bit more (see).
Terrific to have these early and timely reports of the sinking of the H.M.S. Victory just recently been found,
Among the many other articles in this issue is: "From Boston in New England came advice...with about 70 regular troops & 700 Indians, kept...Annapolis Royal under perpetual alarms..." with more (see).
There is also a lengthy account headed: "Of the Detention of the Jamaica fleet..." which takes over a full page.
Also included is much reporting on events in Parliament under the guise of: "Proceedings & Debates in the Senate of Lilliput" as direct reporting on Parliamentary events was prohibited.
Near the back is a section headed: "Historical Chronicle" with news from England & other parts of Europe.
Complete in 54 pages with full title/contents page featuring an engraving of St. John's Gate. Measures 5 by 8 inches.
There are no maps or plates called for in this issue.

A very nice pre-Revolutionary War magazine from the "mother country" with a wide range of varied content including news of the day, political reports, literary items, and other unusual tidbits. This was the first periodical to use the word "magazine" in its title, having begun in 1731 and lasting until 1907.
Category: The 1600's and 1700's