Click image to enlarge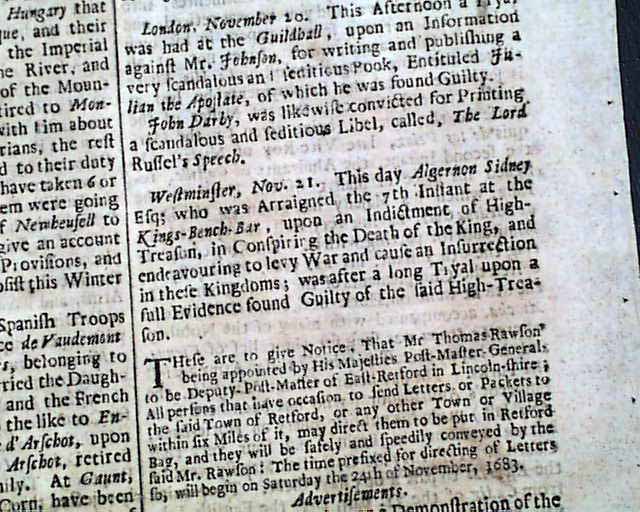 Show image list »
Algernon Sydney guilty of treason ... conspired to kill King Charles II...
Item # 552196
November 22, 1683
THE LONDON GAZETTE, England, November 22, 1683

* Algernon Sydney guilty of treason
* King Charles II murder plot

The reverse has a brief but historic report about the trial of Algernon Sydney, the famous English politician and political theorist, and opponent of absolute monarchies.

Sydney ultimately became involved in a plot to assassinate King Charles II. He was later indicted for treason, found guilty and executed.

The report, datelined "Westminster, Nov. 21" reads in full: "This day Algernon Sidney, Esq; was Arraigned the 7th Instant at the Kings-Bench-Bar, upon an indictment of High Treason, in Conspiring the Death of the King, and endeavoring to levy War and cause and insurrection in these Kingdoms; was after a long Tryal upon a full Evidence found Guilty of the said High-Treason." Great to have a report about this famous British politician in this title.

Note: Sidney is one of the namesakes for Hampden-Sydney College in Virginia. A single sheet, nice.

wikipedia notes: A son of Robert Sidney, 2nd Earl of Leicester, and the great-nephew of Sir Philip Sidney, he is thought to have been born at Penshurst Place in Kent. All of his life Sydney had been consistent in his support of liberty. He had served in the New Model Army, though he opposed the decision to execute Charles I. He was for a time the lover of Lucy Walter, later the mistress of Charles, Prince of Wales. In the end Oliver Cromwell's absolutism was little better for Sydney than that previously practiced by the king. His dismissal of the Long Parliament in 1653 was the act of a Caesarian dictator, subverting the republic and the constitution. In retirement Sydney was bold enough to outrage the Lord Protector by putting on a performance of Julius Caesar, with himself in the role of Brutus; and Brutus he was to remain.

A republican by deep conviction, he was abroad when the monarchy was restored in 1660, choosing to remain in exile for some years. While writing Court Maxims (1665-6) he was busy negotiating with the Dutch and French for support of a republican invasion of England. He was only to return in 1677, almost immediately becoming involved in opposition to Stuart monarchial absolutism. When Charles dismissed his final Parliament in 1681, saying he would have no more, Sydney united with Shaftesbury and others in plotting against the perceived royal tyranny, of a 'force without authority.' Sydney was later to be implicated in the Rye House Plot, a scheme to assassinate Charles and his brother, though on the evidence of only one witness.

Recognizing that a conviction rested on the testimony of two witnesses, Sidney pled the law and demanded a second witness be produced in court against him; at which juncture his own writings were offered into evidence, as, "false, seditious and traitorous libel". "An argument for the people", said the Solicitor General, "to rise up in arms against the King". In response Sydney said that it was easy to condemn him by quoting his words out of context "If you take the scripture to pieces you will make all the penmen of the scripture blasphemous; you may accuse David of saying there is no God and of the Apostles that they were drunk." But for the court, to write such was to act. The republican aristocrat was found guilty of treason and sentenced to death. Neither denying nor affirming the charge of treason for which he had been condemned, Sydney maintained republican faith to the end, declaring on the scaffold: "We live in an age that makes truth pass for treason."
Category: The 1600's and 1700's
Available Now
$150.00

Add to Cart