Click image to enlarge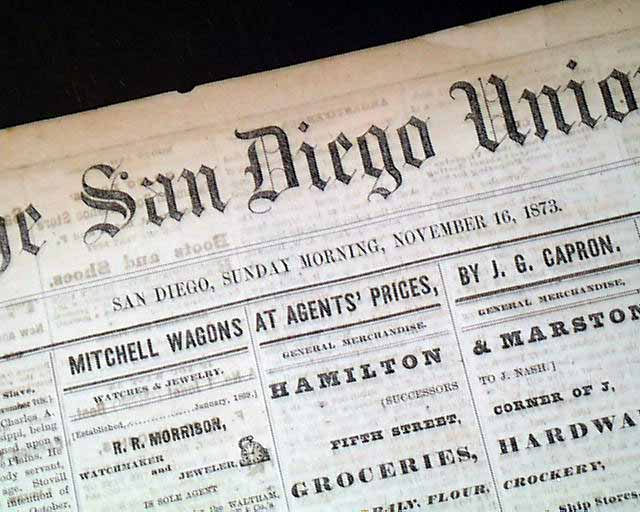 Show image list »
The bandit Tiburcio Vasquez...
Item # 549141
November 16, 1873
THE SAN DIEGO UNION, San Diego, California, November 16, 1873

* Tiburcio Vasquez murder and robbery exploits

Page 2 has a rather brief yet interesting report: "The Vasquez Bandits--Murder and Robbery--One of the Band Caught & Hung".

Four pages, very nice condition, other news of the day & a wealth of ads.

Great to have a report on the infamous bandit Tiburcio Vasquez in a Southern California newspaper as this was where he was from.

source: wikipedia: In 1871, Vasquez was wounded after a stage coach robbery, but avoided capture. In 1873 he gained statewide notoriety. Vasquez and his gang stole $200 from Snyder's Store in Tres Pinos, in San Benito County, killing three innocent bystanders in the process. Posses began searching for him, and Governor Newton Booth placed a $1,000 reward on his head.

Vasquez moved to Southern California, where he was less well known. With his two most trusted men, he rode over Tejon Pass, through the Antelope Valley, and rested at Jim Heffner's ranch at Elizabeth Lake. Vasquez' brother, Francisco, lived nearby. After resting, Vasquez rode on to Littlerock Creek, which would become his first Southern California hideout.

Vasquez returned to the San Joaquin Valley, and committed another robbery at Kingston in Fresno County December 26, 1873, making off with $2,500 in cash and jewelry.

Governor Booth was now authorized by the California state legislature to spend up to $15,000 to bring Vasquez to justice. Posses were formed in Santa Clara, Monterey, San Joaquin, Fresno, and Tulare Counties. In January 1874, Booth offered $3,000 for Vasquez's capture alive, and $2,000 if he was brought back dead. The rewards were increased in February to $8,000 and $6,000. Alameda County Sheriff Harry Morse was assigned specifically to track Vasquez down.

Heading towards Bakersfield, Vasqez and his gang rode south to the rock promontory now known as "Robbers Roost" after him. From there, the gang could rob coaches from the silver mines near Owens Lake. However, pickings were poor. Vasquez also shot and wounded a man who didn't obey his orders. Because of this, the stages would add a shotgun rider beside the driver.

The gang moved to Elizabeth Lake and Soledad Canyon, robbing a stage of $300, stealing six horses and a wagon near present day Acton, and robbing lone travelers. Vasquez was believed to be hiding out at Vasquez Rocks. For the next two months, he escaped attention. However, he then made an error that led to his capture.

Vasquez took up residence in the Hollywood Hills at "Greek George's" ranch, located on the San Fernando Valley side of the Cahuengas Mountains. Greek George was a former camel driver for General Beale in the Army Camel Corps. Allegedly, Vasquez seduced and made pregnant his own niece. Either the girl's family or Greek George's wife's family betrayed Vasquez to Los Angeles Sheriff William Roland. Roland led a posse to the ranch and captured Vasquez on May 13, 1874.

Vasquez remained in the Los Angeles County jail for nine days. He had numerous requests for interviews many newspaper reporters, but agreed to see only three: two from the San Francisco Chronicle and one from the Los Angeles Star. He told them that his aim was to return California to Mexican rule. He insisted he was an honorable man and had never killed anyone.

In late May, Vasquez was moved by steamship to San Francisco. He would eventually stand trial in San Jose. Vasquez quickly became a celebrity among many of his fellow Hispanic Californians. He admitted he was an outlaw, but again denied he had ever killed anyone. A note written by Clovidio Chavez, one of his gang members, was dropped into a Wells Fargo box. Chavez wrote that he, not Vasquez, had shot the men at Tres Pinos. Nevertheless, in January 1875 Vasquez was sentenced to hang for murder. His trial had taken four days and the jury deliberated for two hours before finally finding him guilty of two counts of murder in the Tres Pinos robbery.

Visitors still flocked to Vasquez's jail cell, many of them women. He signed autographs and posed for photographs. Vasquez sold the photos from the window of his cell and used the money to pay for his legal defense. After his conviction, he appealed for clemency. It was denied by Governor Romualdo Pacheco.

Vasquez calmly met his fate in San Jose on March 19, 1875. He was 39 years old.
Category: The Old West