Search Within Results:
Excluding Text:
Min price:
$

—
Max price:
$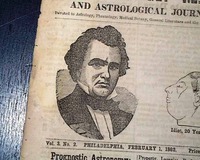 February 1, 1862
BROUGHTON'S MONTHLY PLANET READER AND ASTROLOGICAL JOURNAL, Philadelphia, Feb. 1, 1862
* Uncommon title
* Astrology - Horoscope
A fascinating and very unusual newspaper of small-size themed on predicting what would happen in the future as well as astrology and phrenology. The "science" of phrenology believed that a person's intelligence & personality were a factor of t...
See More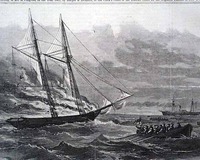 February 1, 1862
HARPER'S WEEKLY, New York, February 1, 1862 The full front page has two prints: "Destruction of a Schooner off Cumberland Inlet, Georgia, by the boats of the 'Alabama'" and "The Pirate 'Sumter' Firing at the Brig 'Joseph Parks' of Boston".
Inside has a full page print with 8 images of: "War Scenes On Green River, Kentucky" and other ...
See More
Available Now
$46.00
Second rate also available for:
$24.00
If you are searching for a newspaper from a specific date, please note that we have a vast selection available for purchase by using the date picker on our
gifts and birthday newspapers
page.