Search Within Results:
Excluding Text:
Min price:
$

—
Max price:
$
Other Potential Titles...
Note: In addition to what may or may not be shown below, issues may be available for this date which have yet to be listed on our website.
View Potential Titles for 01/01/1500

Due to the size of our inventory, it is possible we still may have what you are looking for. Please call (570-326-1045) or send your request to .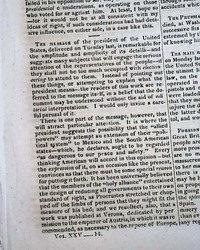 December 6, 1823
NILES' WEEKLY REGISTER, Baltimore, December 6, 1823
* The complete Monroe Doctrine
* United States foreign policy
An inside page has the "President's Message" being James Monroe's annual address to Congress. Part of his message contains the historic language warning European powers not to get involved in any affairs in the western hemisphere. This directive becam...
See More