Search Within Results:
Excluding Text:
Min price:
$

—
Max price:
$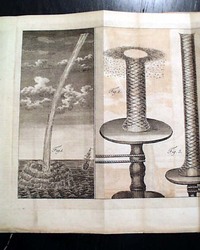 THE GENTLEMAN'S MAGAZINE, London, December, 1781 Certainly the most historic report in this issue--and perhaps in any issue from the Revolutionary War--is that near the back of the issue under the "Historical Chronicle". It begins with an editorial comment:
"Gen. Washington's letter to the President of Congress on the surrender of the British army under Lord Cornwallis
...
See More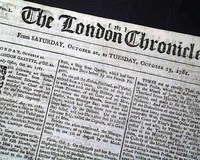 October 23, 1781
THE LONDON CHRONICLE, England, Oct. 23, 1781 A page 2 report gives some hints of the events soon to come at Yorktown, with:
"We hear that M. de Grasse has entered the Bay of chesapeak & landed 3600 men under the command of M. de St.Simon. These troops are to join those of M. de la Fayette to oblige, if possible, the English to evacuate Georgia..."
. Further on is a report from t...
See More
If you are searching for a newspaper from a specific date, please note that we have a vast selection available for purchase by using the date picker on our
gifts and birthday newspapers
page.