Search Within Results:
Excluding Text:
Min price:
$

—
Max price:
$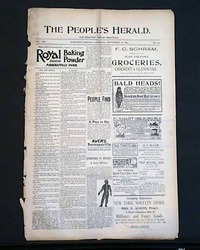 January 1, 1893
THE PEOPLE'S HERALD & GLENWOOD SPRINGS REPUBLICAN, Colorado, 1893 As noted in Wikipedia:
" Glenwood Springs was originally known as Defiance, Colorado. Defiance was established in 1883, a camp of tents, saloons and brothels with an increasing amount of cabins and lodging establishments. It was populated with the expected crowd of gamblers, gunslingers, and prostitutes. Town Fou
...
See More

Wild West Collection II -
A Broad View
- Each set contains a total of 5 issues, one issue each from 5 different old west states, revealing a broad view of this formative period in American history. Includes issues from five of the following old west locations: California, Wyoming, Utah, Montana, Washington, Nevada, Colorado, and Oregon, and include such titles as The Daily Boomerang. All issues ar...
See More
If you are searching for a newspaper from a specific date, please note that we have a vast selection available for purchase by using the date picker on our
gifts and birthday newspapers
page.