Search Within Results:
Excluding Text:
Min price:
$

—
Max price:
$
Q-Ansin-Hamilton-2-7-17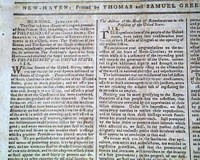 January 27, 1790
THE CONNECTICUT JOURNAL, New Haven, Jan. 27, 1790 The front page begins with the response of the Senate to Washington first state-of-the-union address to the Congress, signed in type:
John Adams
as Vice President & President of the Senate. This is acknowledged by a short response signed;
G. Washington
. Also the "Address of the House of Representatives to the President of the United ...
See More
If you are searching for a newspaper from a specific date, please note that we have a vast selection available for purchase by using the date picker on our
gifts and birthday newspapers
page.