Search Within Results:
Excluding Text:
Min price:
$

—
Max price:
$
Q-Ansin-Hamilton-2-7-17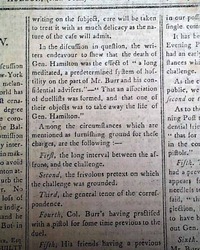 August 14, 1804
THE BALANCE & COLUMBIAN REPOSITORY, Hudson New York, Aug. 14, 1804 The entire front page is an: "Editorial - Gen. Hamilton" which has near the beginning:
"...a discussion which has taken place in the New York papers, with respect to the late melancholy catastrophe, by which the world has been deprived of one of its brightest ornaments..."
which then reflects upon the ...
See More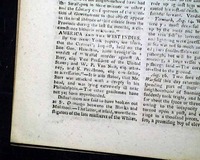 September 1, 1804
THE GENTLEMAN'S MAGAZINE, London, September, 1804 The first column of a page is headed: "AMERICA & THE WEST INDIES" reporting:
"By the New York papers, we learn, that the Coroner's Inquest, held on the late Gen. Hamilton, have brought in a verdict of 'Willful murder against A' Burr, esq. Vice President of the United States... It is also stated, that Mr
...
See More
If you are searching for a newspaper from a specific date, please note that we have a vast selection available for purchase by using the date picker on our
gifts and birthday newspapers
page.