Search Within Results:
Excluding Text:
Min price:
$

—
Max price:
$
Q-Ansin-Hamilton-2-7-17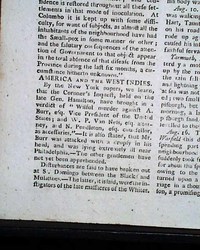 September 1, 1804
THE GENTLEMAN'S MAGAZINE, London, September, 1804 The first column of a page is headed: "AMERICA & THE WEST INDIES" reporting:
"By the New York papers, we learn, that the Coroner's Inquest, held on the late Gen. Hamilton, have brought in a verdict of 'Willful murder against A' Burr, esq. Vice President of the United States... It is also sta
...
See More
If you are searching for a newspaper from a specific date, please note that we have a vast selection available for purchase by using the date picker on our
gifts and birthday newspapers
page.