Search Within Results:
Excluding Text:
Min price:
$

—
Max price:
$
British Officers - Rev War
British Officers - Rev War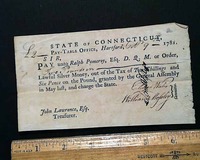 FASCINATING DOCUMENT for providing pay to soldiers through the Deputy Quarter Master of the Military for the "State Of Connecticut". This document contains a signature, is dated 1781 and is approx. 4 by 6 inches.
Minimal wear but generally very nice condition. A terrific item for display and dated during this very significant year in the war when Cornwallis surrendered.
The photo is re...
See More
If you are searching for a newspaper from a specific date, please note that we have a vast selection available for purchase by using the date picker on our
gifts and birthday newspapers
page.