Search Within Results:
Excluding Text:
Min price:
$

—
Max price:
$
*Quote-DF-Spacerelics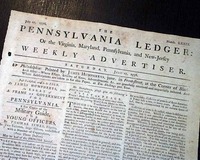 July 27, 1776
THE PENNSYLVANIA LEDGER, Philadelphia, July 27, 1776
* Battle of the Cedars
* Invasion of Canada campaign
* John Hancock & George Washington
This was a decidedly Tory newspaper, supportive of the British efforts in America. This newspaper ended publication in June, 1778 when the British evacuated the city. Note that this issue is just the second published since it printed the Dec...
See More
If you are searching for a newspaper from a specific date, please note that we have a vast selection available for purchase by using the date picker on our
gifts and birthday newspapers
page.