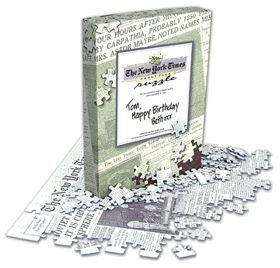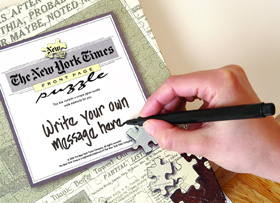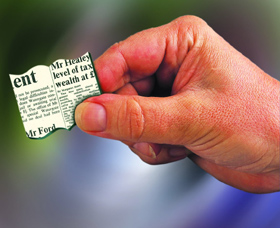 The New York Times Jigsaw Puzzles
The past meets the present with this superb 400-piece jigsaw puzzle featuring a front page of The New York Times on the date of your choice.

This fascinating jigsaw puzzle is individually created using high quality mono reproductions taken from original - and increasingly rare - archive editions dating as far back as 1888. What "in the world" was happening on that special day? With this unique jigsaw, you are 400 pieces away from finding out!

An ideal and prestigious gift for any special date or event: birth dates, anniversaries, historic events, weddings, retirements, etc.

To help you get started "putting the news together", the centerpiece is shaped like an open newspaper and the jigsaw also comes with a full-sized paper copy (folded) of the selected front page to assist in assemblage (assembled size is 12.5 x 18.5 inches). Your jigsaw will arrive in an attractive presentation box, which, for that added personal touch, contains an area on the box lid allowing you to write your own special gift message.
Enter any date (mm/dd/yyyy) from 1888 through the present - only $44:
Shipping Information
Jigsaw Puzzles will be shipped separately from any/all other items purchased.
Unlike our normal delivery time, since the puzzles are "custom made" to order, estimated delivery time is 3-4 weeks.
The cut-off for Christmas Holiday delivery is December 7th.

* Refunds/exchanges will not be made if the incorrect date is ordered.

** We can only ship puzzles to the U.S. and Canada!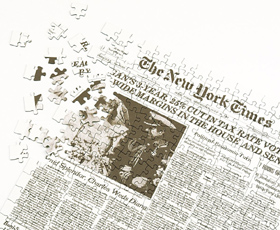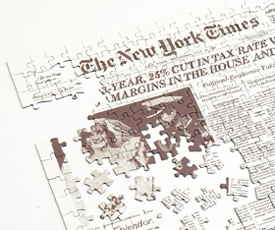 © 2005 The New York Times Company.
The New York Times is a registered trademark of The New York Times Company. All rights reserved