Original Thomas Nast Prints
Thomas Nast was an artist, who at one time in his career, wielded enough power to make or break a politician's campaign for the U.S. Presidency.
Nast exercised that influential power in the election of 1884 between Grover Cleveland and James G. Blaine. His reluctant support of Cleveland (Nast was a staunch Republican, but severely distrusted Blaine) through his political cartoons in Harper's Weekly is believed to have helped capture the small margin by which Cleveland secured the presidency. This was the last political campaign Nast covered for Harper's Weekly.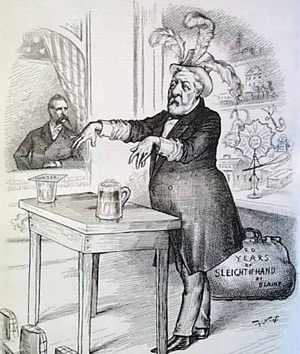 Cartoon depicting James Blaine as a sleight of hand artist. From Harper's Weekly, October 4, 1884.