eBay Listings Search Results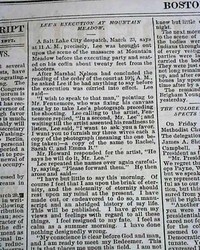 JOHN D. LEE Mountain Meadows Massacre EXECUTION Mormons Mormonism 1877 Newspaper
eBay Fixed Price Item # 372749396706
Offered is an original, historic, & collectible old newspaper: BOSTON EVENING TRANSCRIPT, March 24, 1877 * John D. Lee execution * Mountain Meadows Massacre Over a full column on page 2 is headed: "The Execution At Mountain Meadow" with fine coverage of the execution of John D. Lee--perpetrator of the infamous Mountain Meadows Massacre. Much reporting on Lee's comments before his execution including: "...My conscience is clear before God and man, and I am ready to meet my Redeemer...I have no fear of death...I am a true believer in the gospel of Jesus Christ I do not believe in everything that is now practiced and taught by Brigham Young..." with more. Then: "...Immediately after a handkerchief was placed over Lee's eyes. He raised his hands & placed them on the top of his head....
See More
Buy Now on eBay
Ends September 26, 2019 12:10
$110.00
(2) JOHN D. LEE Mountain Meadows Massacre EXECUTION Mormons 1877 Old Newspapers
eBay Fixed Price Item # 372061158818
Shown is an original & historic old newspaper, offered to enhance your collectible interest: BETHLEHEM DAILY TIMES, Pennsylvania, a pair of issues dated March 23 and 24, 1877 * John D. Lee execution * Mountain Meadows Massacre The March 23 issue has a small, inconspicuous item near the bottom of the front page: "John D. Lee, the Mormons who is to be executed to-day for the murder of emigrants at Mountain Meadows in 1857, has made a full confession, acknowledging his guilt." The March 24 issue has near the top of the front page an item head:: "John D. Lee Shot for the Mountain Meadow Massacre" with the text including in part: "...was shot at the scene of the Mountain Meadow massacre...Before being executed he made a speech denouncing Brigham Young, declaring himself a scapegoat f...
See More
Buy Now on eBay
Ends September 29, 2017 07:15
$79.00