eBay Listings Search Results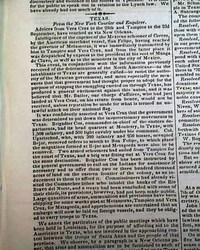 TEXAS REVOLUTION Begins w. Battle of Gonzales & Samuel Houston 1835 Newspaper
eBay Fixed Price Item # 392864093400
Offered is an original, historic, & collectible old newspaper: NILES' WEEKLY REGISTER, Baltimore, Nov. 7, 1835 * Texas War for Independence begins * Battle of Gonzales TX Inside has 2 1/2 pages of news under the heading: "Texas" concerning events from the beginning of their war for independence. The reports seem to be a result of the Battle of Gonzales (first battle of the Texas war for independence) but there is no direct reference to it. Included are: "....It was confidently asserted at Vera Cruz that the government was determined to put down the insurrectionary movements in Texas..." and "Whereas, the rights & liberties of our fellow countrymen of the neighboring province of Texas are endangered by the violent & despotic course of general Santa Anna..." with more. Included also ...
See More
Buy Now on eBay
Ends August 06, 2020 09:49
$44.00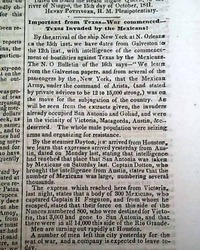 MEXICAN INVASION OF 1842 Gen. Mariano Arista Attacks TEXAS 1842 Old Newspaper
eBay Fixed Price Item # 391704878089
Shown is an original & historic old newspaper, offered to enhance your collectible interest: THE WEEKLY HERALD, New York, March 26, 1842 * General Mariano Arista Page 5 has a noteworthy article headed: "Important From Texas--War Commenced--Texas Invaded by the Mexicans!" with various details. See this hyperlink for more on the Mexican invasion of 1842. Eight pages, good condition.
Buy Now on eBay
Ends March 16, 2017 15:39
$39.00