eBay Listings Search Results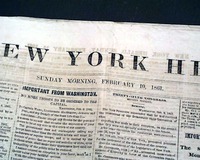 JEFFERSON DAVIS Elected Confederate President Constitution Conv. 1861 Newspaper
eBay Fixed Price Item # 392259244189
Offered is an original, historic, & collectible old newspaper: NEW YORK HERALD, Feb. 10, 1861 * Jefferson Davis elected Confederate president * Constitutional Convention of the Confederacy * Pre Civil War tensions brewing A wealth of significant content on the creation of the Confederacy, with front page column heads including: "Important From the South" "The Southern Congress at Montgomery, Alabama" "Adoption of A Constitution" "The Executive Officers of the New Republic" "Jefferson Davis or Mississippi, President" "Alexander H. Stephens, of Georgia, Vice President" and more. The front page subheads include: "The Constitution of the Southern Confederacy" which gives some highlights from their constitutional convention, including the text of the Preamble, and also noting differ...
See More
Buy Now on eBay
Ends April 13, 2019 14:25
$148.00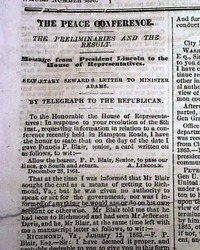 PEACE MISSION Conference Jefferson Davis & Abe Lincoln 1865 Civil War Newspaper
eBay Fixed Price Item # 391525520595
Shown is an original & historic old newspaper, offered to enhance your collectible interest: SPRINGFIELD REPUBLICAN, Massachusetts, Feb. 11, 1865 * Peace conference * Confederate mission * Abraham Lincoln Most of the front page is taken up with: "The Peace Conference" 'The Preliminaries & the Result" 'Message from President Lincoln to the House of Representatives". This is quite lengthy & detailed and in addition to eight front page correspondences each signed in type: A. Lincoln, there are other documents signed in type by Jefferson Davis, Alexander Stephens, William Seward, U.S. Grant, & more. Much on the Civil War inside. Eight pages, archival mends to each leaf, very nice condition.
Buy Now on eBay
Ends September 04, 2016 14:44
$37.00