eBay Listings Search Results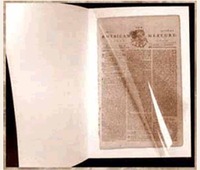 SMALL - $6 Acid-Free Storage Folder for TIMHU Newspaper (varied 10x7" to 14x10")
eBay Fixed Price Item # 391962221163
SMALL - $6 Acid-Free Storage Folder for a TIMHU Newspaper! Acid-Free Protection For Your SMALL Newspaper Select Only If Our Listing Calls For A $6 Folder! The acid-free folder is a SMALL folder - perfect for London Gazettes, Gentleman's Magazines, London Chronicles, Observators, etc., and is designed to accompany a newspaper purchased from us (timhu - History's Newsstand - Timothy Hughes Rare & Early Newspapers) which calls for a $6 folder. The size of the actual folder sent will be slightly larger than the newspaper purchased and will be appropriately sized by our staff. The folder we select will range anywhere from 10"x7" to 14"x10", depending upon the ne...
See More
Buy Now on eBay
Ends February 14, 2018 13:00
$6.00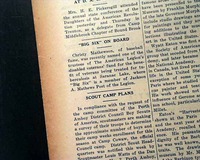 Rare PERTH AMBOY NJ Middlesex County New Jersey Short Lived 1925 Old Newspaper
eBay Fixed Price Item # 371988084197
Shown is an original & historic old newspaper, offered to enhance your collectible interest: THE MOSQUITO, Perth Amboy, New Jersey, March 21, 1925 A curious little newspaper which appears to be the combination of the Middlesex Plain Dealer and the Perth Amboy Press. Filled mostly with local news and tidbits, many quite folksy and humorous, plus many ads as well. The ftpg. has a bit noting: "Christy Mathewson, of baseball fame, was recently named one of the trustees of the American Legion's disabled veterans' fund...". A volume one issue of a very short-lived title as Gregory notes the last recorded date as March 15, 1926. Issues held by only two institutions. Eight pages, measures 9 by 12 inches, good condition.
Buy Now on eBay
Ends July 20, 2017 14:15
$8.00