eBay Listings Search Results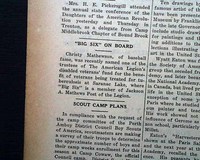 Rare PERTH AMBOY NJ Middlesex County New Jersey Short Lived 1925 Old Newspaper
eBay Fixed Price Item # 392800787785
Offered is an original, historic, & collectible old newspaper: THE MOSQUITO, Perth Amboy, New Jersey, March 21, 1925 A curious little newspaper which appears to be the combination of the Middlesex Plain Dealer and the Perth Amboy Press. Filled mostly with local news and tidbits, many quite folksy and humorous, plus many ads as well. The ftpg. has a bit noting: "Christy Mathewson, of baseball fame, was recently named one of the trustees of the American Legion's disabled veterans' fund...". A volume one issue of a very short-lived title as Gregory notes the last recorded date as March 15, 1926. Issues held by only two institutions. Eight pages, measures 9 by 12 inches, good condition.
Buy Now on eBay
Ends June 15, 2020 12:16
$8.00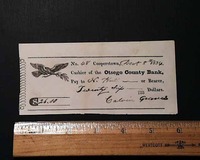 1834 Handwritten OTSEGO COUNTY BANK Cooperstown NY New York Check w/ Eagle Print
eBay Fixed Price Item # 372631675000
This is a genuine check written on the "Otsego County Bank" of Cooperstown, New York dated 1834. Included is the amount in the lower left corner with a signature in the lower right. There is a nice engraving of an eagle with an olive branch in its beak (see). An early financial item & great to have from this town famous as the home of the Baseball Hall of Fame. Measures 2 3/4 by 5 1/2 inches and is in nice condition. The photo shows one of several we have so your check will look almost identical but with slight variations in the handwritten notes.
Buy Now on eBay
Ends April 18, 2019 15:19
$8.00