eBay Listings Search Results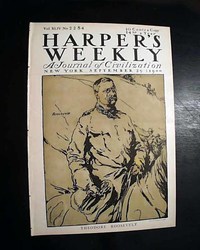 THEODORE ROOSEVELT Color Cover & Galveston TX HURRICANE w/ Photos 1900 Magazine
eBay Fixed Price Item # 392321456200
Offered is an original, historic, & collectible old newspaper: HARPER'S WEEKLY, New York, Sept. 29, 1900 * Teddy Roosevelt * Galveston, Texas hurricane Certainly the best feature of this issue is the nice full front page print (in two colors) captioned: "Theodore Roosevelt" which is very nice for display, and from just after his successes in the Spanish-American War. Also within this issue are photos of the "Hurricane at Galveston" "The Strike of the Pennsylvania Coal Miners" and other prints & photos. The doublepage centerfold is a political satire of William J. Bryan as William Tell. Complete in 24 pages, very nice condition.
Buy Now on eBay
Ends July 27, 2019 09:28
$89.00
The Great GALVESTON TX Texas Gulf Coast HURRICANE Disaster PRINTS 1900 Newspaper
eBay Fixed Price Item # 372177487085
Shown is an original & historic old newspaper, offered to enhance your collectible interest: THE EVENING NEWS, Detroit, Sept. 19, 1900 * Galveston, Texas hurricane disaster The top of page 2 has a two column heading: "Miss Clara Barton Stricken While Ministering in Galveston" with illustration of her. (see) Page 3 has a three column print with heading: "A Miracle Of the Galveston Storm" (see) This Galveston hurricane was the deadliest in United States history with an estimated 6,000-12,000 deaths (see Wikipedia). Ten pages, light toning with some wear at the margins, should be handled with care.
Buy Now on eBay
Ends January 26, 2018 15:31
$37.00