eBay Listings Search Results
LIZZIE BORDEN Fall River Massachusetts Hatchet Murders TRIAL End 1893 Newspaper
eBay Auction Item # 372865470358
Offered is an original, historic, & collectible old newspaper: SPRINGFIELD REPUBLICAN, Mass., June 11, 1893 * Lizzie Borden murder trial * Fall River, Massachusetts * Woman hatchet killings Page 4 has an article with coverage on the Lizzie Borden murder case with heading: "First Week of the Borden Case" (see) Eight pages, light toning and a little wear at the margins, should be handled with care.
Buy Now on eBay
Ends December 12, 2019 11:34
$39.99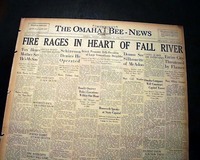 GREAT FALL RIVER FIRE Massachusetts Conflagration Disaster 1928 Old Newspaper
eBay Fixed Price Item # 372556569552
Offered is an original, historic, & collectible old newspaper: THE OMAHA BEE NEWS, Nebraska, February 3, 1928 * Fall River, Massachusetts fire disaster * Home of murderess Lizzie Borden The top of the front page has a nice banner headline: "FIRE RAGES IN HEART OF FALL RIVER" with subheads. (see) Nice for display. First report coverage on the Great Fall River fire of 1928. Other news of the day. Complete with 18 pages, light toning at the margins, generally nice. wikipedia notes: The worst fire in Fall River's history occurred on the evening of February 2, 1928, beginning when works were dismantling the recently vacated Pocasset Mill. During the night the fire spread quickly and would wipe out a large portion of downtown. City Hall was spared, but was badly damaged. Today, many...
See More
Buy Now on eBay
Ends February 02, 2019 15:22
$44.00