eBay Listings Search Results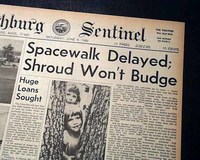 GEMINI 9 IX Thomas P. Stafford Spaceflight NASA Launch & Orbit 1966 Newspaper
eBay Fixed Price Item # 372653720706
Offered is an original, historic, & collectible old newspaper: FITCHBURG SENTINEL, Massachusetts, Ohio, June 4, 1966 * Gemini 9A IX- orbit * NASA's Gemini Program * Astronaut Thomas P. Stafford * Eugene A. Cernan The front page has a five column headline: "Spacewalk Delayed; Shroud Won't Budge" Coverage on the Gemini IX space flight. Other news, sports and advertisements of the day. Complete in 12 pages, nice condition.
Buy Now on eBay
Ends May 16, 2019 15:13
$37.00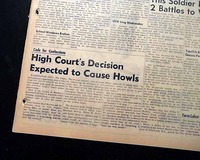 MIRANDA RIGHTS Warning Police Officers Crime Suspects BECOMES LAW 1966 Newspaper
eBay Fixed Price Item # 371659042204
Shown is an original & historic old newspaper, offered to enhance your collectible interest: THE RUSSELL DAILY NEWS, Kansas, June 14, 1966 * Miranda rights onset * Supreme Court decides the Miranda vs. Arizona case * Landmark decision A front page report on a game-changing ruling for law enforcement, as the Supreme Court responds to the case of "Miranda vs. Arizona". Headed near the bottom of the ftpg: "High Court's Decision Expected to Cause Howls" with caption: "Code for Confessions" This case is what resulted in the "Miranda rights" being required to be read to criminals to this day. Other news, sports and advertisements of the day. Complete in 6 pages, a few small binding holes along the spine, minor margin wear, generally nice.
Buy Now on eBay
Ends July 17, 2016 13:50
$52.00