eBay Listings Search Results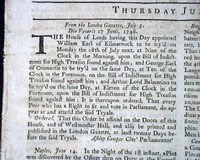 JACOBITE Risings REBELLION The Pretender TREASON Arrest 1746 Edinburgh Newspaper
eBay Fixed Price Item # 392470170052
Offered is an original, historic, & collectible old newspaper: EDINBURGH EVENING COURANT, Scotland, July 10, 1746 * Jacobite Rebellion conspirators The front page begins with a report noting: "The house of Lords having this day appointed William Ear of Kilmarnock to be try'd on Monday the 28th of July next...upon the bill of indictment for High Treason found against him, and George Earl of Cromartie..." as well, and Arthur Lord Balmerino also to be tried on the same day. These were the principal ring leaders of the failed Jacobite Rebellion and they would be found guilty. Balmerino and Kilmarnock would be executed, Cromartie would be given a pardon in 1748. Page 2 has more on the Jacobite Rebellion as well including reference to the historic Battle of Culloden (see). Four pages...
See More
Buy Now on eBay
Ends November 08, 2019 06:27
$44.00
Rare 18th Century FLYING POST w/ Nice Masthead Engravings 1718 London Newspaper
eBay Fixed Price Item # 392034763620
Shown is an original & historic old newspaper, offered to enhance your collectible interest: THE FLYING-POST: OR, THE POSTS-MASTER, London, June 17, 1718 * Very rare title In 1695 the Licensing Act of England was allowed to lapse, which caused several newspapers to begin publication, this title being one of them. But this is certainly one of the more rare such titles as we have only offered 4 or 5 in the past 40 years. Filled with various reports from Europe, with the ftpg. having a short bit mentioning the "Pretender" of the Jacobite Rebellion fame. The back page has some reports concerning crime, one mentioning: "...try'd and convicted at the session of the Peace...for keeping a common house of Bawdry; and thereupon the said Phillis Ransford was sentenc'd to be whip'd at the Ca...
See More
Buy Now on eBay
Ends June 02, 2018 15:04
$176.00