eBay Listings Search Results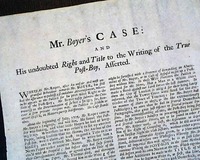 Rare & Early 18th Century Abel Roper v. Boyer - Post Boy 1711-12 ? BROADSIDE
eBay Fixed Price Item # 371665146582
Rare broadside from London titled: "Mr. Boyer's CASE: and His Undoubted Right and Title to the Writing of the True Post-Boy, Asserted". As a bit of background, in May, 1695 Roper started a newspaper called the 'Post Boy,' which appeared three times a week, and was the rival of the Whig 'Flying Post'. Roper's enemies said he wrote for either party, according as he was paid. John Dunton, who commends Roper's honesty, says that the 'Post Boy' was written by a man named Thomas, and on his death by Abel Boyer. After editing the 'Post Boy' for Roper for four years, Boyer grew dissatisfied and started a 'True Post Boy' of his own, which, he complained, Roper tried to stop. This broadside relates to the quarrel between Boyer and Roper. See the photos for the full text. The broadside is not d...
See More
Buy Now on eBay
Ends July 24, 2016 13:59
$188.00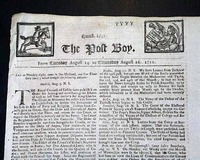 Early 18th Century Rare 1711 POST BOY Ornate Masthead ENGRAVING Newspaper PRINT
eBay Fixed Price Item # 391398573166
Shown is an original & historic old newspaper, offered to enhance your collectible interest: THE POST BOY, London, Aug. 16, 1711 * Displayable masthead * Early 18th century One of the earlier issues of this title we have offered, having two handsome engravings in the masthead, both showing much detail. The front page is mostly taken up with reports of the various wars in Europe with over half of pg. 2 taken up with "Advertisements". Complete as a single sheet newspaper, 8 1/2 by 14 14 inches, very nice condition.
Buy Now on eBay
Ends April 02, 2016 15:32
$49.00