eBay Listings Search Results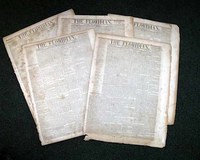 Lot of (5) Rare TALLAHASSEE Leon County FLORIDA Antebellun 1840's Old Newspapers
eBay Fixed Price Item # 372720249946
Offered is an original, historic, & collectible old newspaper: (5) THE FLORIDIAN, Tallahassee, Florida, 1840's * Rare antebellum title A lot of five issues from just after Florida's statehood. All are a bit "2nd rate" (staining, rubbing, close-trimming, etc.), but are not damaged. A very popular lot. Dates included are 1846: Dec. 26 and 1847: June 12, June 19, July 3 & Aug. 21. Issues from early Florida are very difficult to find and are quite collectible. A great set at a bargain price.
Buy Now on eBay
Ends August 23, 2019 08:13
$149.00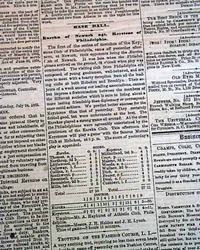 (6) 1865 New York City Newspapers Post Civil War BASEBALL GAMES w/ Box Scores
eBay Fixed Price Item # 372230212211
Shown are 6 original & historic old newspapers, offered to enhance your collectible interest: NEW YORK TRIBUNE and TIMES, a lot of six issues of July, August & September, 1865, each containing on inside or back pages a report of a baseball game with box scores. Very early baseball from shortly after the Civil War. All are complete in 8 pages, nice condition.
Buy Now on eBay
Ends March 24, 2018 16:45
$39.00