eBay Listings Search Results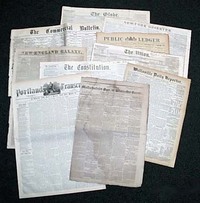 19th Century Variey Lot - 10 Authentic Issues From the 1800's Severely Discouted
eBay Fixed Price Item # 372205338351
Shown is an original & historic old set of newspapers, offered to enhance your collectible interest: WHOLESALE VARIETY LOT of ten different titles dating from the 1820's - 1890's, in average or better condition---not a damaged lot and no pulpish newspapers. A popular way to assemble a variety of titles at a low price. We will give you ten different American newspapers ranging from 1820 to 1899 (no pulp issues) in average condition with good reading. A wealth of varied issues for under $2.50 each. A great set for a great price. The image shown is representative of the look and condition of the issues you will receive. Actual issues vary. Additional lots are available. Feel free to order more than one set.
Buy Now on eBay
Ends February 25, 2018 08:52
$24.95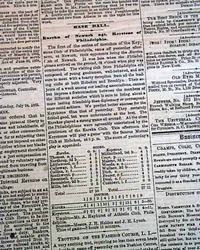 (6) 1865 New York City Newspapers Post Civil War BASEBALL GAMES w/ Box Scores
eBay Auction Item # 391981842235
Shown are 6 original & historic old newspapers, offered to enhance your collectible interest: NEW YORK TRIBUNE and TIMES, a lot of six issues of July, August & September, 1865, each containing on inside or back pages a report of a baseball game with box scores. Very early baseball from shortly after the Civil War. All are complete in 8 pages, nice condition.
Buy Now on eBay
Ends February 22, 2018 09:48
$34.99