eBay Listings Search Results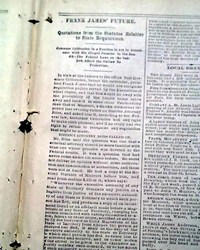 OUTLAW FRANK JAMES Jesse Gang re. Surrender & Future on Stage ? 1882 Newspaper
eBay Fixed Price Item # 392264050913
Offered is an original, historic, & collectible old newspaper: ST. LOUIS GLOBE-DEMOCRAT, Oct. 10, 1882 * Outlaw Frank James * Jesse gang fame * To travel on stage ? Page 5 begins with over a full column headed: "FRANK JAMES' FUTURE" "Quotations from the Statutes Relative to State Requisitions" "Gov. Crittenden in a Position to Act in Accordance with His Alleged Promise to the Bandit--The Federal Laws on the Subject Afford the Outlaw No Protection". Included also is: A Theatrical Proposition to Frank James", to exploit his notoriety on the stage. Frank James with the brother of Jesse & a member of the James Gang of outlaws. He surrendered to officials a few days prior. Twelve pages, nice condition.
Buy Now on eBay
Ends April 21, 2019 09:28
$38.00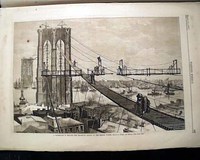 BROOKLYN BRIDGE East River New York City Under Construction PRINT 1877 Newspaper
eBay Fixed Price Item # 372230215408
Shown is an original & historic old newspaper, offered to enhance your collectible interest: HARPER'S WEEKLY, New York, March 31, 1877 * Brooklyn Bridge - East River * Under construction print The full front page shows portraits of: "The Cabinet". Great fullpg. sailing ship illus. perfect for display: "The New U.S. Frigate Trenton". Great fullpg: 'The Brooklyn Ascent to the Bridge Tower" shows the famous Brooklyn Bridge under construction. Nast doublepage centerfold is a political cartoon. There is nearly a full page with three: "Random Street Sketches in Philadelphia",' mostly shows African-Americans. Sixteen pages, foxing & damp stains most at bottom margin, stain & hole to the front leaf, never bound nor trimmed.
Buy Now on eBay
Ends March 24, 2018 16:51
$48.00